FadeAway Green Range | Non-Toxic Cleaning Agents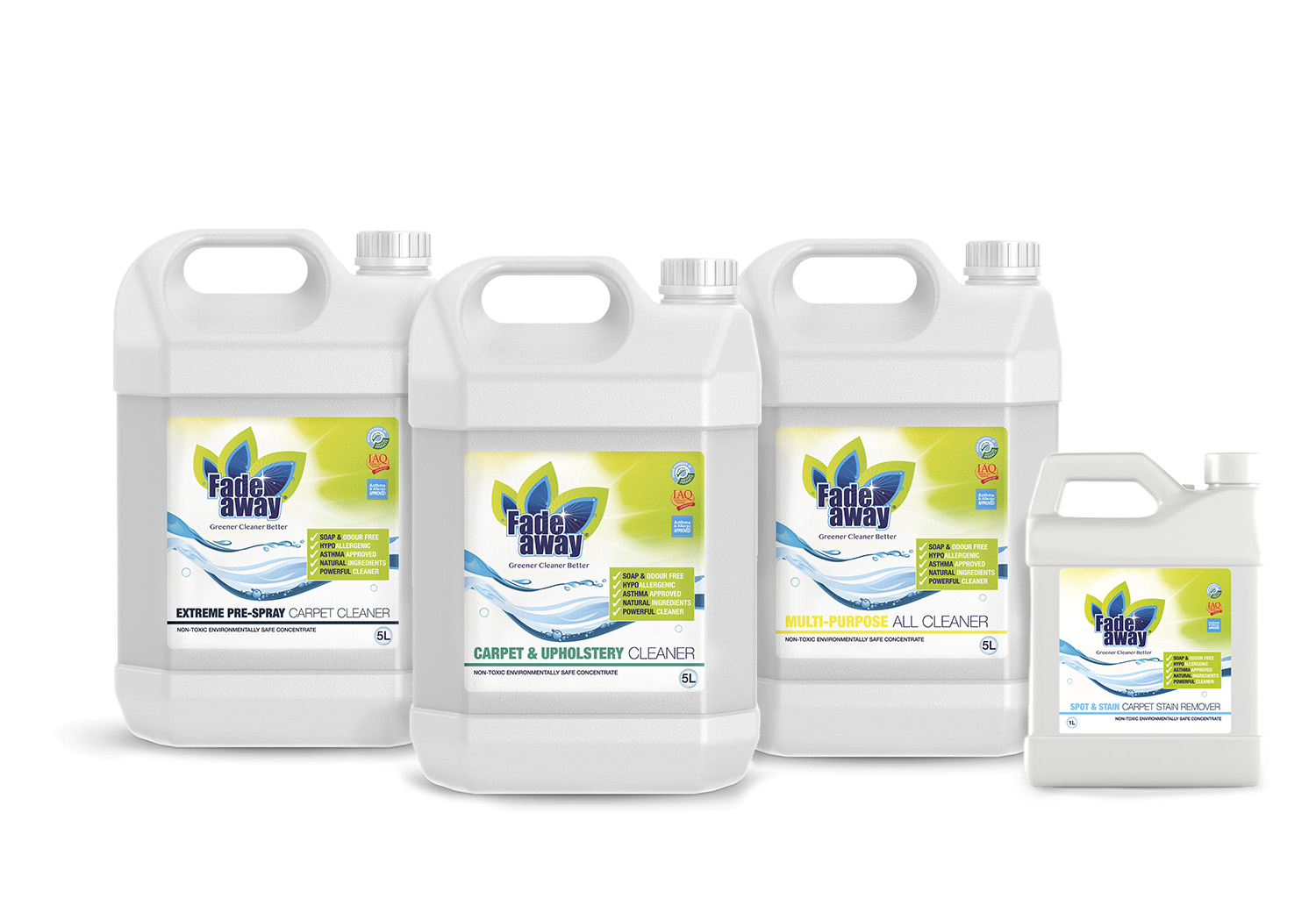 FadeAway is Juvenate's very own line of cleaning chemicals. Juvenate is committed to providing cleaning agents that are safe for the environment and has released the FadeAway Green Range to ensure that customer's health is not impacted without compromising on an exceptional clean.
The FadeAway Green Range products are GreenSeal certified which means they are composed of chemicals that have been certified to being environmentally friendly by an independent eco-label. The FadeAway range is non-toxic, non hazardous, soap and detergent free, contain no enzymes, bleach or bacteria, is odourless, hypoallergenic, consists of natural ingredients and is user safe. FadeAway does not contain any VOCs (Volatile Organic Compounds – organic chemicals that have a high vapor pressure at ordinary room temperature). FadeAway products are also IAQ (Indoor Air Quality) approved because it does not use any harsh chemicals which ensures a safer clean.
Can be used at:
Hospitals and health care facilities

Educational institutions

Government and public facilities

Commercial buildings

Residential properties
Carpet and Upholstery Cleaner
No soap or detergent residue

Highly effective on heavy grease and oil

Dirt soiled carpets and upholstery

Removes ground in dirt from severely soiled traffic areas

No need for defoamers or acidic rinse agents therefore, it is a cost saver
Spot and Stain Remover
Spots and stains will not bleed back

Can be used on heavy grease, oil, dirt soiled carpets and upholstery

Removes tough spots and stains like blood, ink, tar, food and drink residues

IAQ approved – maintains Indoor Air Quality
Multi-Purpose Cleaner
Won't bleach or damage surfaces

Removes toughest of soil residues

Removes grease, oil, soap, dirt, mould/mildew

Surfaces such as wood, stainless steel, aluminium, copper, countertops, walls and ceilings, plastics and more
Extreme Pre-Spray
Safe and effective on even the most delicate fibers

Effective on hard to clean carpets such as olefin and acrylic

Works on heavy oil and grease such as in restaurants